Welcome to Butterfly class!

Who works in our Classroom?
Mrs Gemma Buttress Mrs Heather Brooks
(Class Teacher) (L.S.A.)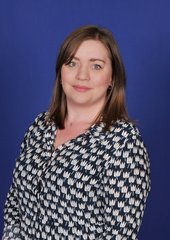 Our Curriculum overview
Spring A
Communication and language

The children will build up vocabulary that reflects knowledge and experience e.g., children can talk about space, what they know about it, what an astronaut does, how we know about space. We will focus on using different tenses to discuss things that are happening now and things that happened in the past; asking relevant questions to find out more information – e.g. when sharing a non-fiction text children can say 'I wonder why…' – as well as sharing their opinions and preferences in the context of new knowledge.

Physical Development

In everyday activities, we will focus on the gross motor skills, coordination and balance, throwing and catching skills; the pupils will enjoy outdoor physical activity as part of daily provision.

The children will continue to develop their pencil grip and greater pencil control, as well as learn to use small tools such as pipettes, tweezers, cutlery and scissors effectively.

In weekly PE lessons, we will study Gymnastics. In this unit, children will develop their basic gymnastic skills. Students will explore basic movements, creating shapes and balances, jumps and rolls. They will begin to develop an awareness of space and how to use it safely; perform basic skills on both floor and apparatus; copy, create, remember and repeat short sequences. They will also begin to understand using levels and directions when travelling and balancing.

PSED

Children will explore similarities and differences within their class, school and wider communities. We will focus on including everyone and the value of diversity. Children will continue to develop an understanding of their and other's feeling and consequences of some actions, building their empathy and self-regulation.

In our weekly PSHE lessons, the children will explore why they are special and what makes their own individual identity. They will begin to understand how they mix with others and belong to different groups e.g. their family, class, school, clubs; neighbourhood. They will learn about some of the similarities and differences between families including the different people in families and where families live. They will consider how what they do and say can affect the needs and feelings of other people and how they and everyone else have the right to be valued and treated fairly and equally whatever their cultural background or choice of lifestyle.

Literacy

The children will access a variety of high quality texts about space and space exploration, as well as following their wider interests. We will memorise abbreviated versions of familiar picture books, such as Whatever next and How to catch a star through Talk4Writing lessons. Additionally, we will continue building appreciation of non-fiction books as a source of information on studied topic.

In Phonics, we will continue to secure all of the Set 1 sounds, including the Set 1 diagraphs. The children will continue to practise blending sounds orally using Fred talk and will read 'green words' at increased speed. We will use segmenting to write words and children will begin writing more complex words independently, using their phonological knowledge. To build on emergent writing, we will encourage short words or phrases in different writing contexts, e.g. in free flow or in a structured lesson. The children will also begin learning new 'red words' and build fluency in decoding nonsense words – 'alien words'.

Mathematics

The children will recognise, represent and manipulate numbers to 10. Children will learn to recognise and count different representations of numbers up to 10 and use a ten frame to help structure their counting and reasoning. The concept of cardinality will be reinforced throughout and children will be encouraged to subitise and to see number bonds beyond 5 as an efficient counting strategy.

We will then focus on practising the skill of comparing groups of objects up to 10, using the key mathematical vocabulary of more, fewer, more than and less than. Children will be exposed to various misconceptions, including comparing groups where objects within each group are different sizes, shapes and colours. Children will represent 'more' or 'fewer' than a given number, leading into a discussion about 'finding the difference' between two numbers up to 10.

This half term's learning will bring together the key skills of one more and one less and the part-whole model, to ensure confident mastery of the skill of combining two groups to find a whole up to 10. With addition of two groups, or parts, the children will learn concepts to provide a strong, structured basis from which to master addition to 10.

At the end of the half term, the children will develop their understanding of the different elements that can be measured. Children will learn the difference between measuring weight and measuring size through investigation. They will apply their skills of counting to measure objects using non-standard units.

Understanding of the word

The children will learn about our planet Earth, land and sea, plants and animals, weather, gravity, the moon, the sun, the planets in our solar system, space travel and astronauts.

We will explore people who looked at the stars, i.e. Galileo, and share traditional stories to explain the stars e.g. The hunting of the Great Bear.

The children will be introduced to what scientists and astronomers know about our Solar System now; our sun, the planets in our solar system; and learn about the Moon landings and Neil Armstrong. We will research astronauts and astronomers; including Mae Jemison, Tim Peak and Caroline Hershel.

The children will also learn about the International Space Station (ISS) and why it was built and launched.

Towards the end of the half term, we will study the seasons of the year with a focus on Spring – the first signs of spring; snowdrops, cherry blossom, buds and flowers, birds nesting, bees, lighter evenings.

Expressive Arts and Design

The children will deepen their understanding of line as an element of art and will be taking a line for 'a walk' while exploring and naming different types of lines. We will have a go at creating drip paintings like Jackson Pollock, experimenting with large scale art and new techniques.

The children will design and make Lunar New Year puppets.

In music, we will explore the Bloom app on iPads to create repeating patterns of music. The children will listen and respond to Holst's Planet Suite.
Weekly newsflash
Week beginning 16th January
This week, we continued to study space focusing on astronauts - the children enjoyed watching Tim Peak on the International Space Station, learning about Mae Jemison's journey to becoming a famous astronaut, and exploring equipment and skills that astronauts need to do their fascinating job. In art, we learned about Jackson Pollock and his use of gravity to create drip art. We had lots of fun splatting, dripping and pouring paint onto a large piece of paper, collaborating to create a large scale drip art painting just like Pollock. In Talk 4 Writing, the children innovated the now familiar story of Whatever next. In their innovated versions, the Baby Bear wanted to go to the Zoo, to space and to visit volcanoes!
In phonics, most children learned more set 1 special friends. Children in Ditty group should now know all of the Set 1 special friend sounds and will be practising reading them in words, in readiness for our next assessment. Please look out for the weekly email with RWI links for your child's group. Phonics books should to be returned on Fridays - thank you for reading these with your child as frequently as you can.
In maths, children practised comparing numbers up to 10. We focused on comparing groups of objects where the objects differ in size. Children learnt to apply the words more and fewer to compare groups of up to 10 items; started finding the difference between groups by counting on or counting back and represented numbers to 10 in their journals and by using concrete objects in the environment.
Please make sure your child is not bringing toys from home to school. We are planning on introducing a more appropriate way of allowing children to show their favourite toys in class, without the distraction and problems caused by toys making their way into the classrooms everyday.
Have a nice and restful weekend!
Week beginning 9th January
This week we have begun our journey into space which has really captured the children's interests. We have begun by learning about Planet Earth and introduced lots of new vocabulary including gravity, atmosphere, orbit, solar system and astronomer. We used google earth to explore zooming in on different places around the world and looked at the contrast of different places on Earth from sand dunes, coral reefs and rainforests and celebrated the life we have on our planet. We also used a globe and torch to learn about day and night in relation to the Earth spinning and acted out different planets in the solar system orbiting around the sun to help our understanding. When then learnt about famous astronomers Galileo and Caroline Herschel and the invention of the telescope which enabled them to discover more about space.
We have started learning our Talk for Writing text, Whatever Next! By Jill Murphy. During the Imitate stage we have learnt the story using our story maps and actions, next week we will move on to the innovate stage to create our own versions of the story by changing the setting.
In maths we continued with numbers 9 and 10. They will be introduced to the numbers 9 and 10 and use the ten frame to scaffold their counting to 10.
Some children are bringing home phonics resources, please can we ensure that these are in school on a Friday to change to reflect that weeks learning. Library books are continuing to be changed on a Tuesday.
You will have received an email this week about a planetarium visiting school to support our learning on space which will be a very exciting experience!
Please can we kindly request that toys/pencil cases etc. are left at home - it is always upsetting when items are lost/broken. Children only need to bring with them a water bottle, spare change of clothes, coats, phonics folders on a Friday and library books on a Tuesday.

Enjoy your weekend!
Week beginning 2nd January
Welcome back and Happy New Year!
The children settled really well after the Christmas holiday. This week, we focused on remembering the school rules and routines, as well as sharing our experiences from the Christmas break. We studied a new element of art in our art lesson, looking at different types of lines, applying prior knowledge of straight and curved lines and naming new lines we used in our artwork.
In maths, we started the new unit of learning - numbers up to 10. This week, children practised counting up to 8 objects and showing them using concrete representations, including the ten frame. Children used counters and mark making as a representation of amounts. We focused on 1 to 1 correspondence when counting, making sure we touch one object and say the number at the same time.